2014.12.03 Wednesday
プリシラアーンさんのライブを観に、目黒。
いまや、ジブリ映画の主題歌で耳にする名前だけど
まだ主題歌になる前にひとづてに知ったアーティスト。
演奏風景は、YouTubeでしか観られなかったこともあって
やはり生のステージはちがう、と感じられる場面が多々あった。
え。多々とかなんなの、かたい。
英文にしようとおもいながら書いているせいで
日本語までもが完全に意識した感じに。
むりやりくだけさせるとすれば
観客のなかに、率先して拍手をあおるひとがいたのだけど
100%の確率でリズムがくるってて、ほほえましかったのが
きょうのハイライト。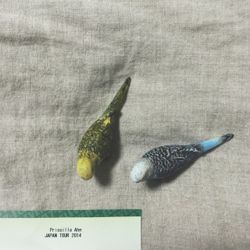 I'll try to write in English but I can't speak English.
If I'm wrong, I'm sorry.
I went to the concert of Priscilla Ahn in Tokyo, Japan.
Mr.Kumabe was taught her to me,
before her song become a theme song of the Omoide no marnie.
I was very glad because I was able to listen to her whisper voice.
And I was watching the YouTube sofar.
She sang a song in Japanese and spoke(MC) in Japanese.
Her efforts were transmitted to us.